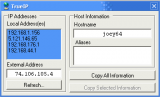 TrueIP is a small program that runs in the system tray, monitoring your IP address(es). With the click of the mouse, you can view information about your current IP address and hostname. If you have a computer that you need access to remotely but don't have the resources to have a static ip address, this program will help you stay connected easily.
Tracks internal and external IP addresses
Notifications when your IP changes including E-mail, FTP, pop up notification, and a free online service provided by HazteK Software called TrueIP Online
Log your recent IP addresses for review at a later date
Runs in the system tray wasting no space and using minimal resources (relative to other full featured .NET applications)
Have a few moments to spare? Please rate TrueIP at the SnapFiles website!
TrueIP requires the the Microsoft .NET 2.0 framework installed on your system. You can
download it from Microsoft's website
, or through
Windows Updates
.
Supported/Tested Operating Systems: Windows® 2000, Windows® XP, Windows® Vista Home Basic, Windows® 7 Home/Pro, Windows® 10 Home
If you are having trouble configuring TrueIP to send emails with popular services like Yahoo or Gmail, please read the FAQ on the SMTP Mail Sender page, as both applications use the same email sending library.