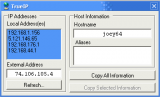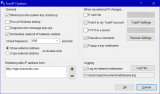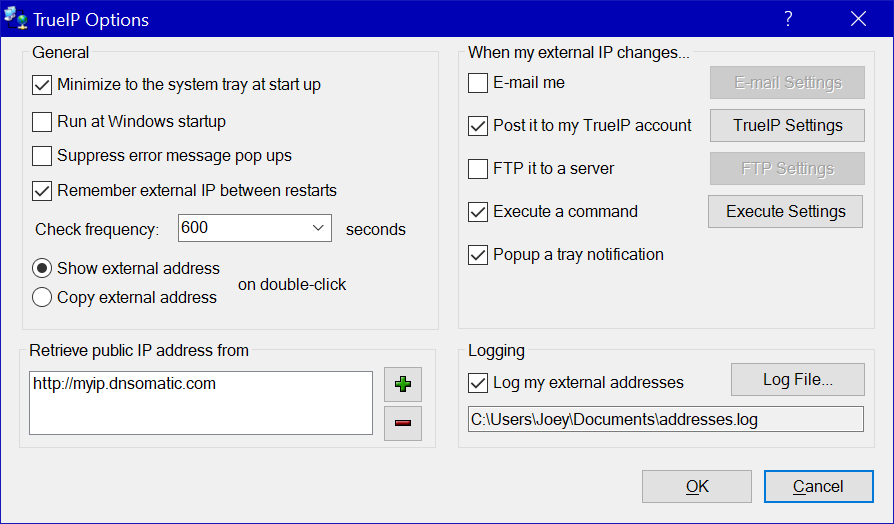 TrueIP is a small program that runs in the system tray, monitoring your IP address(es). With the click of the mouse, you can view information about your current IP address and hostname. If you have a computer that you need access to remotely but don't have the resources to have a static ip address, this program will help you stay connected easily.
Tracks internal and external IP addresses
Notifications when your IP changes including E-mail, FTP, pop up notification, launching an external application, posting to a custom URL, and a free online service provided by HazteK Software called TrueIP Online
Log your recent IP addresses for review at a later date
Runs in the system tray wasting no space and using minimal resources (relative to other full featured .NET applications)
Works with many Dynamic DNS providers to update your DNS records when your IP changes
Now with portable mode!
Have a few moments to spare? Please rate TrueIP at the SnapFiles website!
TrueIP requires the Microsoft .NET 4.6 framework installed on your system.
Supported/Tested Operating Systems: Windows 2000, Windows XP, Windows Vista, Windows 7, Windows 10
If you are having trouble configuring TrueIP to send emails with popular services like Yahoo or Gmail, please read the FAQ on the SMTP Mail Sender page, as both applications use the same email sending library.
TrueIP Service Edition (BETA)
Have a need for TrueIP to run as a service instead of as a desktop application? Try out the new beta version of TrueIP, which works almost exactly the same as the desktop client. This version of TrueIP does not need the system to have a user log in for it to function. Since it is a Windows service, the configuration is a little bit more difficult to manage than a desktop application. This is the first Windows service release by HazteK Software, and may be a little rough. It has been tested on Windows 7 and 10. If you would like to test on your OS and report back, please post a comment here or send me an email.
Tracks internal and external IP addresses
Sends email, ftp, TrueIP Online notifications or a custom URL only, does not interact with the desktop user
Runs as a Windows service in the background, and can be set to run at startup, even with no user logged in
TrueIP Basic
For those who need to see their IP address all the time, we have TrueIP Basic. Its primary and only purpose is to display your IP address in the system's task bar or its own window. You can control where the window shows up and how it is rendered on your screen, to a certain extent.
Shows your external IP address in the task bar
Shows your external IP in a separate window
TrueIP for Linux
For those who want to report their IP address to TrueIP Online from a POSIX compatible host, we have the TrueIP for Linux script. Install to /usr/sbin and /etc/trueip, plug your token in, and go!
Posts your external IP to TrueIP Online
TrueIP for Linux requires the cURL to be installed on your system. Pretty much any version will work.
Tested Operating Systems: Ubuntu 16.04 LTS (x86_64, ARM)