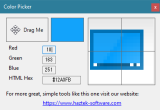 When developing websites or applications, sometimes you want to match colors or even just figure out what color is being used. There are many tools out on the market, both for pay and for free that will let you select any color on the screen and display its properties.
Color Picker
is one of those tools. It doesn't do anything any better than the others out there, but it is very, very simple. It only does one thing, and hopefully does it well.
If you are interested in using such a tool, and you aren't one for excessive functionality, give it a look and see if it will work for you. If you aren't in the market for something like this, thanks for visiting, maybe
something else
around here might be of interest to you. Any way you slice it, I hope you have a great day.