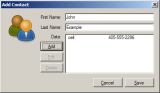 Simple Phone Book is just what the name implies, a simple, easy to use phone book program with minimum bells and whistles. All it does is store data. It's not the worlds most advanced and techie address book. It's a simple way to keep track of numbers and whatever else you want.
Add unlimited entries and custom fields.
Custom colors for each individual type of entry for easy reading (e-mail can be blue, home phone can be yellow, etc.).
Easy to use interface with minimum extra junk to dig through to find what you need.
Simple search for larger databases.
Built on SQLite backend for quick, reliable storage of contacts
Simple Phone Book 0.3 requires the Microsoft .NET 2.0 framework.
Tested Operating Systems: Windows XP,
Windows 7, Windows 10