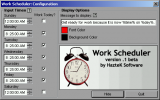 Work Scheduler allows you to input your schedule for the upcoming week and as long as the progarm is running in your system tray, it will remind you when you need to be at work. If you are the type of person that has to rush last minute because you hit snooze on your alarm clock too many times, or you were busy browsing the 'net instead of getting ready for work, then this program is for you! Some options this program features are listed below:
Set a time for each day of the week (Sunday through Saturday)
Customizable message and display options.
Runs in the system tray to save space in your taskbar and on the desktop.
Only set alerts for days you need to be at work.
Work Scheduler requires the
Visual Basic runtime files
.