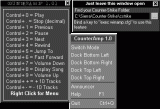 CounterAmp is a small, dockable program that allows you to control Winamp 2.x without having direct access to it. It was created for gamers that play Counter-Strike and listen to music at the same time. You can control what song plays, or if you want to pause the music for a moment while you listen for someone sneaking up on you.
Dock in the screen corners
Three modes for more desktop real-estate or more information/controls
Hides in the system tray, reduces taskbar clutter
Control most aspects of Winamp 2.x & 5.x (play, pause, stop, next, previous, fast forward, rewind, volume, "jump" dialog, skip ±10 songs, show current song)
Works when beneath other applications and can still control Winamp if it is minimized
Display the currently playing song in a dialog in the middle of your screen that goes away after ~3seconds
CounterAmp requires only the Visual Basic runtime files. If you run Windows 2000/XP/2003, you should have them already. Otherwise, visit the
dependencies page
.
Supported/Tested Operating Systems: Windows® 98SE, Windows® 2000 SP1-4, Windows® XP SP0/1/2, Windows® Vista Home Basic