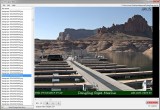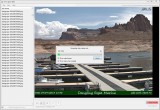 Time Lapser is an application that allows you to combine a directory full of JPEG images into an AVI file playable by most media players, or uploadable to video sharing sites like YouTube or Vimeo. It also allows you to overlay images and/or text on top of the video frames.
Create AVI file from directory of JPEG images
Overlay graphics and text on the output video file
Duplicate frames x number of times, for things like titles or transitions
Here is an example video created with Time Lapser:

Time Lapser requires the the Microsoft .NET 2.0 framework installed on your system. Windows 7 users usually have this already, and if not, you can enable it via your Windows Features section of the Control Panel. For Linux hosts, you will need to install
Wine
with Mono.
Tested Operating Systems: Windows® 7, Xubuntu 16.10