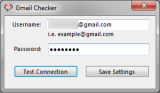 Gmail Checker restores functionality lost when Google discontinued the Windows Google Talk client in February of 2015. The Talk client would notify you when new emails arrived in your inbox, but there is no way to do this natively in Windows without running Chrome in the background. It is a simple application that runs in your system tray and slides a notification onto screen when a new message has arrived, it doesn't blink or flash or do anything else.
Gmail Checker requires the .NET 4.0 Framework. It has been tested on Windows 7 and 10.
Note: Gmail Checker is not affiliated with Google or Gmail in any way. It is a third party tool that connects to your account to retrieve information.