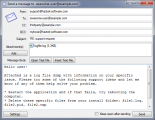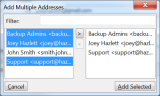 SMTP Mail Sender is an application that allows you to send messages through an SMTP server. It lets you send messages if you do not have a mail application installed, or need to send from an account that is only used for sending messages without worrying about responses. It also runs from a USB thumb drive, so you can send emails from anywhere you have access to a computer with Internet access.
Graphical user interface (GUI) instead of the run of the mill command line applications. UI allows customization by showing/hiding fields as necessary.
If you need a true command line application that does not display a user interface, I highly recommend Blat.
Built in address book saves you time typing email addresses, guesses and auto-completes addresses already in the address book
Send messages using a SMTP server from any Internet connected computer from a thumb drive
Supports attaching an unlimited amount of files to the message before sending
Sends plain text messages to minimize bandwidth used for processing the messages as they travel across the Internet.
Includes language support for English, French, Italian and Spanish
Send messages automatically from a script using command line parameters. A GUI dialog will still pop up when automatically sending the message.
Want to use SMTP Mail Sender in a different language? Check the comments below to see if someone has already provided a translation. If not, and you want to help translate to your local language, provide the translation via this template for others to use in the comments section.
Have a few moments to spare? Please rate SMTP Mail Sender at the SnapFiles website!
SMTP Mail Sender requires the Microsoft .NET 2.0 Framework.
Supported/Tested Operating Systems: Windows® XP SP3, Windows 7 Home/Pro 64bit, Support on Windows® Server is limited to GUI mode, it cannot be run in Service Mode at this time.
Lost and confused? Check the frequently asked questions page.