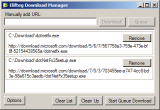 Elifteg is a simple download manager that allows you to queue up file and download them in order, or simultaneously. It currently only supports the http protocol for file transfers, but may support ftp in the future. It is a bare-minimum application that was designed for a fast way to rip a ton of files without having to click and save each one. It currently does not support file resuming, but that is also a feature that is planned. Some of its current features include:
Drag and drop from Firefox and Internet Explorer
Keep on top for easy dropping of files
Queuing a large amount of files and start them all downloading at once or sequentially
Elifteg Download Manager requires the .NET 2.0 Framework. Visit the
dependencies page
.
Supported/Tested Operating Systems: Windows® 2000, Windows® XP