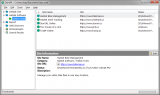 StorURL is an offline bookmark manager for Windows desktops. It helps you to store links to all of your favorite websites in one central repository. It works with the browsers installed on your system so you can open your links in any web browser available to you from one central interface.
Import your bookmarks from most major browsers, including Google Chrome, Mozilla Firefox, Internet Explorer and Opera.
Open websites in any browser installed on your computer, directly from within StorURL.
Store and sort sites in unlimited categories.
Enable a floating toolbar that you can keep anywhere on your screen, for quick access to all your bookmarks.
Generate HTML "home" pages containing links from one or all categories.
Save credentials for any site in an encrypted format.
Open and manage unlimited numbers of databases. Have one for work bookmarks and a separate one for home.
Portable mode! Now, run it from a USB thumb drive! Check out the ZIP download further down the page.
In this modern era, sometimes you aren't able to get to your own personal PC where StorURL may be installed. If you're the type of person who moves around from computer to computer, there is a StorURL solution for you! Check out our web-based version of StorURL , which is available for use for free, just like the desktop version.
Have a few moments to spare? Please rate StorURL at the SnapFiles website!
StorURL requires the Microsoft .NET 3.5 Framework
StorURL also requires the Microsoft Visual C++ 2005 Service Pack 1 Redistributable Package MFC Security Update.
Tested Operating Systems: Windows® XP, Windows® 7 32/64-bit, Windows® 8.1, Windows® 10
Are you looking for the previous version of StorURL? It is recommended that you use the latest version, but click here to access the older version.